---
Have you ever feel itchy in your ears and no one is beside you to help you check the problems?
This 3 in 1 ear cleaning endoscope will help you check your ears and it can be connected with your phone or tablet, from which you can clearly see the inside of your ears in real time!
Just plug the cable to your Android devices or PC and check the ear canal or earwax clearly on your phone. he ultra small lense with 0.3 mega-pixels can easily see the inside stuff with the help of 6 LED lamp brightness and make your work easy and fast. Ideal for daily ear cleaning care. It is also perfect for checking your teeth and gum!
Effectively avoid hurting your children's or your own ear canal caused by cleaning ears blindly

Note :
1. Please make sure your  phone can  support  OTG  functionality  and also compatible with  the UVC ( USB video device class) before you buy it .because some of the phone can shielded external camera . (most of recently version of android device have this function,if you not sure it can suit ,please confirm it first before  you buy it )

2. The medical endoscope is a near focal length product, when take picture too close or too far can be very vague,  the best focal length is about : 1.5 cm .The farther away from the observation, the lower the clarity of the image.

3.if you have any problem please contact us first. 
First check your phone whether to open the OTG switch, and Scan the QR code on the Manual to install APP ,click on the icon, if connected to your phone without the image, you can only use the phone model In the following listing or use on a computer, thank you for your understanding
Please carefully check your phone before ordering, or we'll not be responsible due to the reasons above.



FAQ Before Orders ( please kindly read before ) 
Q1 : How to Used this Endoscope ?
A1. First Scan QR code download APP , or go to cellphone store serach USB Camera  download , and then plug endoscope on you cellphone , open you download App , then will have picture .
Q2 : Our cellphone model if can be support ? 
A2 : Please kindly below form , if you cellphone model is not our from , then can not support , we suggest buy wifi ear endoscope , this wifi ear endoscope Can support all smartphone cellphone and IOS System ! 
 Q3: Why open APP , did not have picture ?
A3 : Please make sure your phone have been open OTG function , please open OTG , and tested again .
Q4 : How can know cellphone if have support OTG ?
A4: 1 ways : You need to have an OTG cable. Use the OTG cable to connect phone with some equipments like keyboard, mouse, U disk, and then you can use it normally, it means that the phone has OTG function. 
2 Ways : some cellphone did not with OTG cable , you need go to cellphone setting find OTG function , if you cellphone did not have this OTG , before order just please contacted us ! 
Ear Cleaning Endoscope Specifications: 
Color: blue , yellow , pink 

Material: plastic, metal 

Lens: 5.5mm 

Pen length: 14.5cm 

Light Sources: 6 pcs LED lights, brightness adjustable 

Best Focal Distance: 1.4 - 2cm 

Resolution: 640*480 pixels 

Interface: USB 2.0 & Micro USB & USB Type-C 

Software Functions: Taking photos, recording videos, measurement, text input
Please Note:
1. Children and elder can't use it alone, must be accompanied by a parent.

2. No suitable for people with narrow ear canal and please wipe with alcohol.

3. We provide 12-Month warranty and 24hours customer support teams.

4. If you have any question, please feel free to contact us firstly.
Package Includes:
1 x  3 in 1 Ear Inspection Camera

1 x Camera protective cap 

4 x Ear pick 

5 x Protective sleeve  

2 x Ring Earpick

4 x Cotoon Head 

1 x Cleaning cloth 

1 x User Manual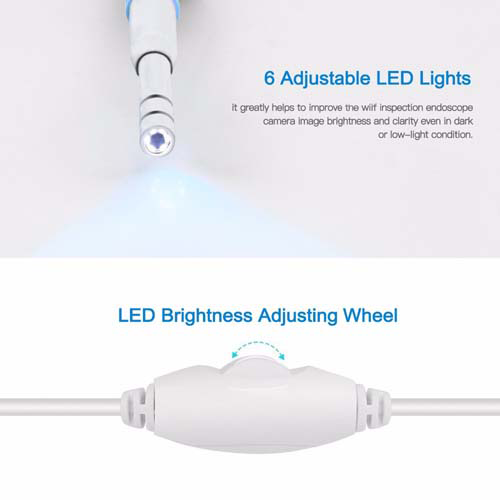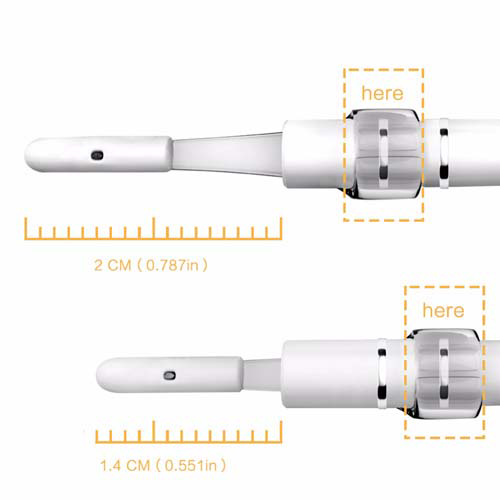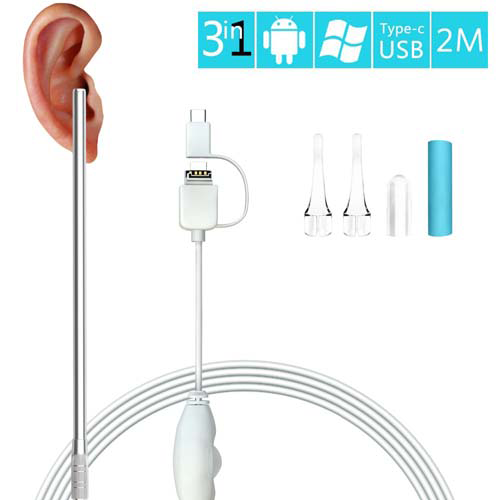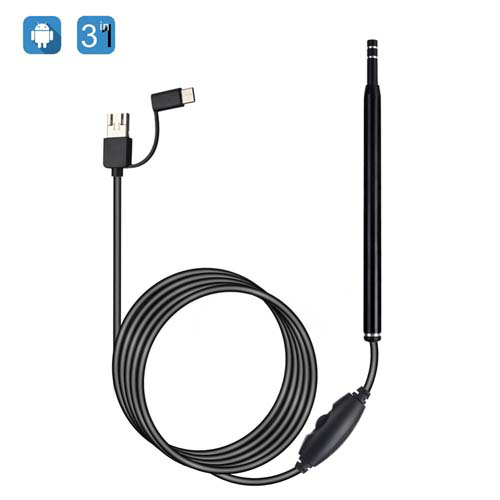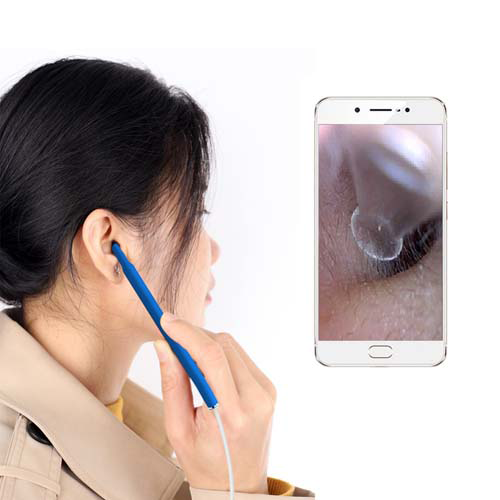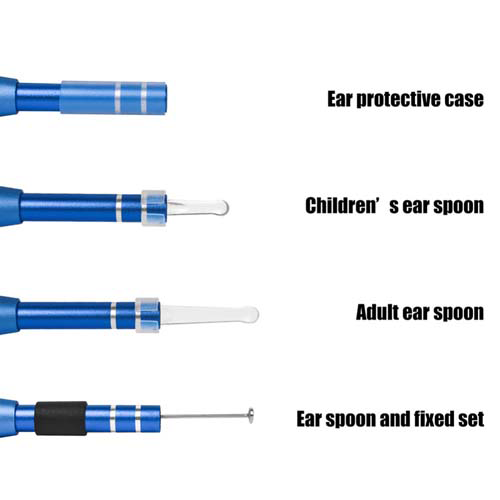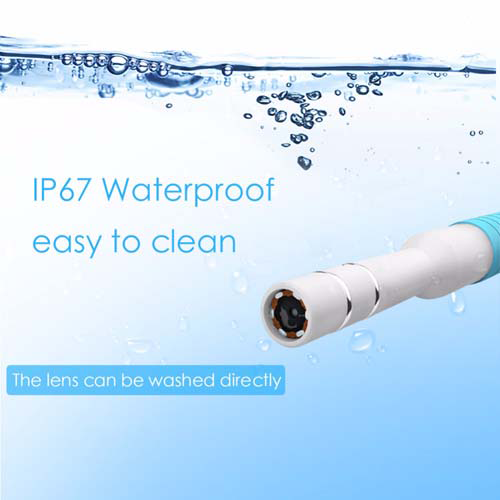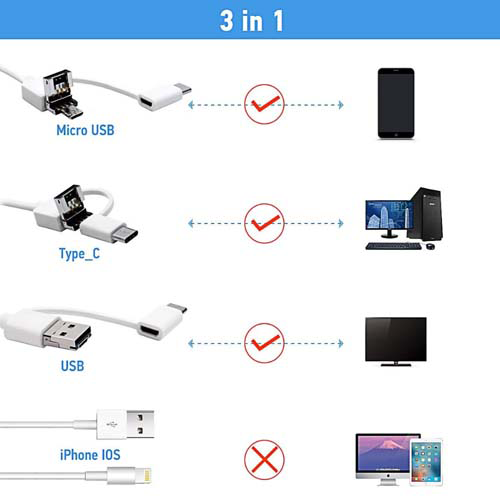 ***
---
choosing a selection results in a full page refresh