Adjustable Bias Binder Presser Foot
Adjustable Bias Binder Presser Foot
Regular price
$39.95
Sale price
$23.95
Learning and mastering the bias binding technique though may require a good amount of time and practice.
If you're a beginner, you can get really frustrated to see the messy back side of the bias after hours of tedious and non-stop hand tucking and excessive pinning. Then the Adjustable bias binder presser foot will help you!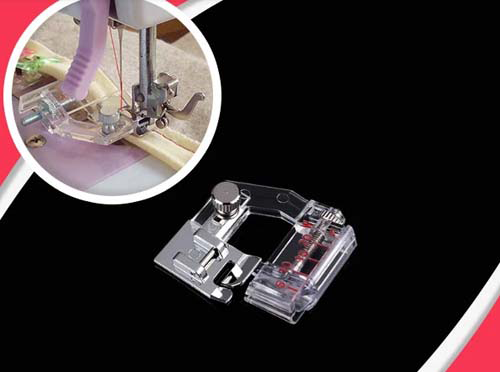 Using this tool is a quick, clean, and easy way to achieve an elegant finish on simple craft projects. It allows perfect sewing of the clothing strip wrapping edge with the same sewing effect on both sides. Just feed the fabric into the binding foot and it will instantly hold and align the edges perfectly. Built using transparent plastic so you can conveniently see the fabric while sewing. Sew the perfect binding in a snap even if you're just a beginner!
Specifications:
Material: plastic, metal

Adjustable to fit bias tapes in different widths, from 5mm (1.97") to 20 mm (7.87").

Easy to use.

Durable in use.

Fits for Brother, Babylock, Janome, Kenmore, Singer and many more sewing machines that use a snap on foot.
How to Fix The Tape-stitching Presser Foot:
1. Fit the presser bar into the slit and firmly tighten the presser foot screw.
2. Turn the guide adjustment screw away from the user in a direction to increase the guide width.
3. Insert the tape from the corner and turn it in a direction to place it in position.
4. Turn the guide adjustment screw toward the user in a direction to narrow the tape.
5. Loosen the stitch position adjustment screw and adjust the position of the tape guide to place the cloth in position for being stitched. After the tape guide is in position, tighten the stitch position adjustment screw.
6. Hold the tape and the cloth by both hands, and start stitching slowly at the beginning.
Package includes:
Similar products
Customers who viewed this item also viewed