---

You wouldn't go to the gym without water? Nor should your dog while out exercising.
Aqua Leash is a stylish leash for dogs that includes four built-in items that you'd otherwise need to carry in your hands or in a bag while walking your canine. These items include a water bowl made from food-grade silicone, a water dispenser that holds 350 milliliters of water, a dispenser for waste bags and a hook for used waste bags.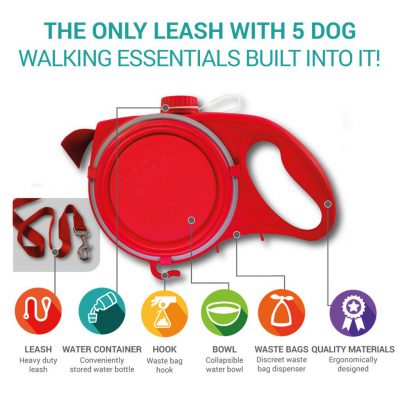 This is no ordinary leash. Considerable thought went into designing this ergonomically engineered unit, not only did it need to perfectly contain these 5 essential pet walking must-haves but also feel amazing to hold.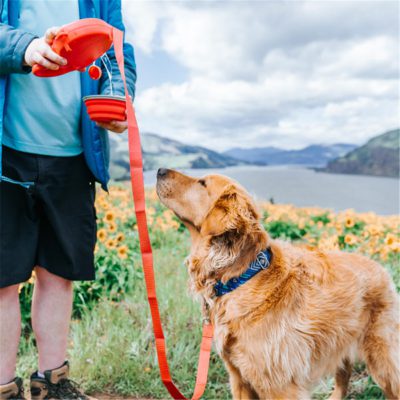 The Aqua Leash includes Leash, Water Bottle, Waste bag dispenser and a Hook for used waste bags.
LEASH

:Made from double-strength nylon and a solid steel safety catch comes in 16.5 FT length and a can-do attitude that handles whatever life throws at it.
WATER CONTAINER:A conveniently stored water bottle complete with a drip-resistant cap holds 350ml.
BOWL:A collapsible water bowl clips in neatly on the side of the unit and hold 250ml.
QUALITY MATERIALS:Aqua Leash is constructed from high-quality materials and is designed for easy use.
WASTE BAGS:The waste bag dispenser ensures you always have waste bags on hand for easy pickups.

HOOK

:A handy hook for filled waste bags means no more messy bags to carry.
Size: 22x16x5.5 CM Multi Function Dog Leash With Built-in Water Bottle Bowl & Waste Bag Dispenser
Material: Plastic Aq
We know you are absolutely going to love owning an Aqua Leash so much, that you'll want to buy one for your friends and family. ua Leash
The Aqua Leash is far and away, one of our most popular items. People can't seem to get enough of it.

Inventory Last Updated: Jul 05, 2020
*NOTE: Due to OVERWHELMING DEMAND, please allow 12-22 Days for delivery.*
Dear valued buyers, You know this product is a must-have, but if you try it out and you are not happy with it, let us know within 30 days and we will refund you for the full amount, Its that easy!.
***
---