Regular price
$ 59.56
Sale price
$ 36.95
Poeple
are viewing this right now
Order NOW to Get it between
Dec 01
-
Dec 12
Guaranteed safe & secure checkout
We've All Been There Before...
The brake job is going smoothly without any issues and now it's time to install the new pads.
Uh Oh...
Your C clamp doesn't fit and your channel locks are too big to fit in that tight space. 
No longer fuss over the details and get the job done in one go with CaliPro Brake Tool!
MAIN FEATURES
BRAKE CALIPER PISTON TOOL:

 

Use the CaliPro Tool to compress pistons quickly and easily into the calipers.

 C

reates a larger space between the caliper cavity to make room for newer and thicker brake pads.

 C

ome pre-lubricated to protect against oxidation;

 

It is suggested to lubricate between uses.

FITS YOUR VEHICLE:

 

Use as a single-piston caliper tool, a dual-piston caliper tool, a quad piston caliper tool. This versatile caliper piston compressor tool is ideal for cars, trucks, and some commercial vehicles -

 

Works on both fixed and floating calipers.

RATCHETING ACTION:

 

CaliPro provides a 360-degree swing that allows you to keep the compression plates in place while you lever the handle back and forth to spread or retract the plates.

 

Centrally located ratchet screw creates even force when compressing pistons to ensure proper alignment and to prevent damage to your brake components.

 

Reverse tool movement to retract compression plates by flipping the switch on the handle.

EASILY RESET YOUR BRAKE CALIPERS AND PISTONS:

 

Drain fluid from calipers using approved brake pressure relief procedure then remove the caliper and worn brake pads from your rotor assembly;

 

Retract brake caliper press plates to fit inside the caliper cavity;

 

Begin ratcheting slowly and steadily until the pistons have retracted completely;

 

Retract compression plates to remove the disc brake piston tool from the caliper cavity.
Perfect For -
Cars
Trucks
Motorcycles & ATV's
Some Lighter Commercial Vehicles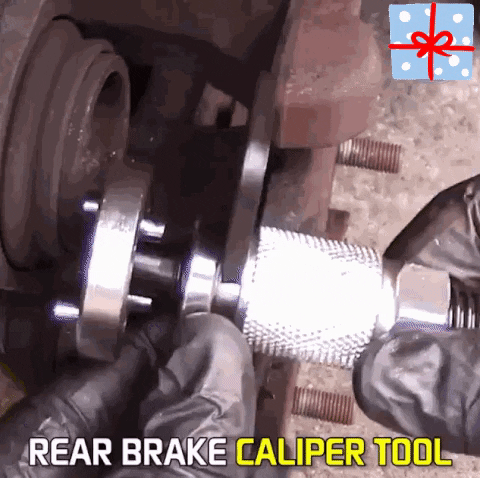 SPECIFICATIONS
| | |
| --- | --- |
| MATERIALS | |
| PACKAGE CONTENTS | |


Similar products
Customers who viewed this item also viewed