---
Tired of stubborn blackheads? Are you looking for a better way to naturally remove blackheads without any harmful effects to your skin?
Now, you can say bye-bye to blackheads with this amazing Electric Blackhead Remover and bring back the WOW to your skin!

This amazing multifunctional cleaning instrument has it all and can help you get rid of stubborn blackheads forever after! It will help you to safely extract blackheads without leaving scars on your skin or other undesirable effects.
This blackhead remover instrument can also remove acne and repair pit, which is amazing! It can clean your skin and restore it by peeling away the impurities found deep within your pores and reducing all the stains you might have.
With regular use, you will be impressed by how youthful, healthy, and shining your face looks!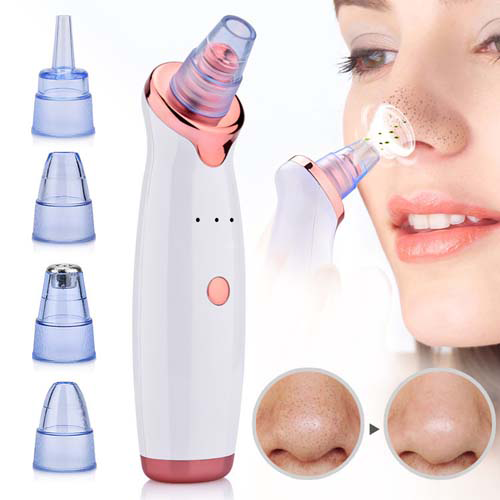 WHY YOU SHOULD GET A BLACKHEAD VACUUM REMOVER
Suffering from bad skin and having unsightly blackheads or acne is no fun, nor is looking old before you are ready! If you want to be at your best for that life-changing interview, business meeting or date but your skin is letting you down, then your confidence won't be high when you need it to be. 1 or 2 weekly skin care treatments for only 5 minutes with our blackhead vacuum remover will result in a noticeable difference that you can see and feel!
DIFFERENT USAGE HEADS
 Blackhead Vacuum Remover comes with 5 replaceable beauty heads, which offers different functions and are clinically designed to effectively cleanse pores for any skin area or skin type. They can be used for massaging facial dermal tissue, eliminating aging skin, cleaning pores, removing blackheads, promoting blood flow and metabolism. 
HOW TO GET THE BEST RESULTS
We recommend starting your treatment with a hot shower, using a hot steamer or placing a hot towel on your face for 3-5 minutes to open up your pores. Choose a suitable head and press the power button, start with the lowest intensity first. Move the blackhead cleanser back and forth around the pores, do not stay in the same place over 3 seconds to avoid skin bruising. Finish your treatment with a cold towel or mask to close the pores you just cleared out. Optional: Apply a toner afterward to further shrink pores and apply your favorite moisturizer.
PORE CLEANSING Effectively sucks out impurities and dust particles from the pores. It removes grease, blackheads & acne instantly, resulting in absolutely glowing skin! SKIN
REJUVENATION It also exfoliates dead skin, treats sagging skin and wrinkles, shrinks pores & makes your skin breathe freely again!
FACE LIFTING The gentle vacuum massage provides a firming effect by stimulating the skin's blood circulation to make you look younger!
Features:
Diamond skin peeling: The exfoliating tip provides a non invasive treatment to rub off top skin layer to remove the dead cells. Makes skin smoother, with more refined texture, and firmer by stimulating your nature cell renewal. 

Face lifting: The vacuum lift system creates a gentle stimulating massaging action, stimulates microcirculation, makes firm skin and tight face. 

Deep pore cleaning: Unique small round hole design, could suck acne, blackhead, or dirt inside the pores to deep clean the pores and prevent acne. 

Wrinkle removal: Unique small elliptical hole design, creates gentle massage and stimulate to the corner of the eyes, nose, mouth, deep influence in the deep skin to remove wrinkles and prevent deep wrinkle.
Packing list:
1x Blackhead Vacuum Remover

 1x Microcrystalline Probe

 1x Oval Probe

 1x Small Circular Probe

 1x Big Circular Probe

 1x Small Pointed Probe

 6x Filter Sponge

 3x Silicone Rings

 1x USB Charger

 1x User Manual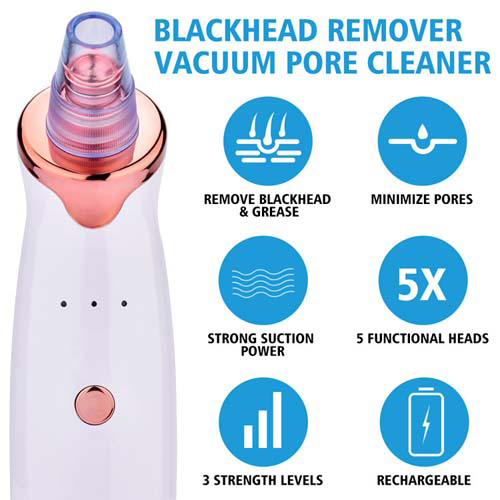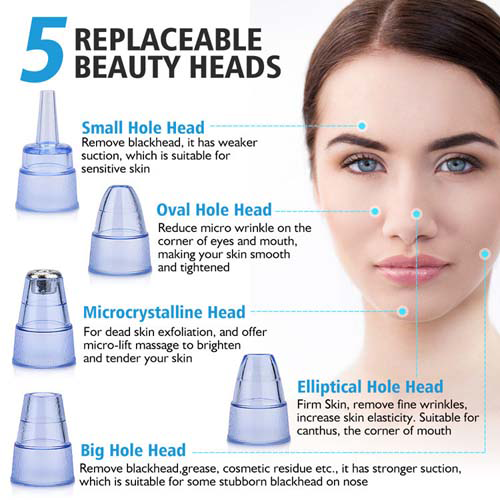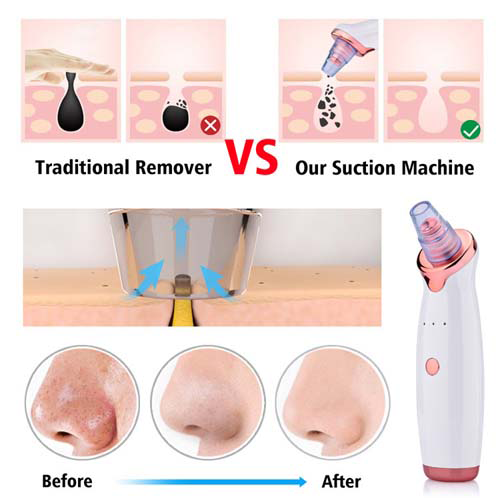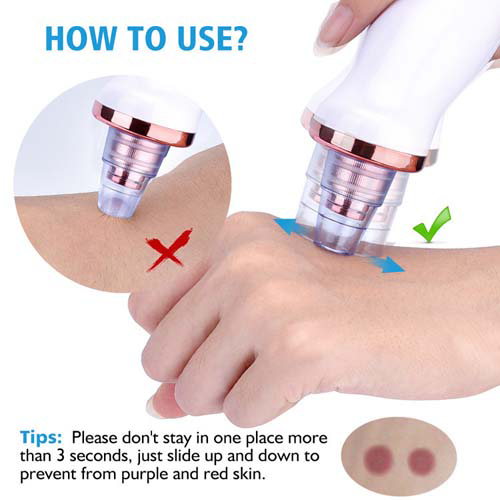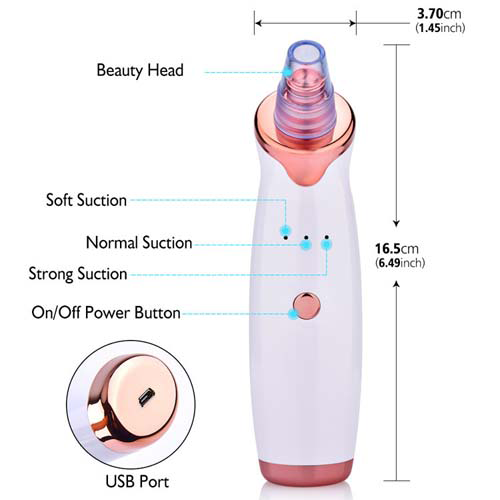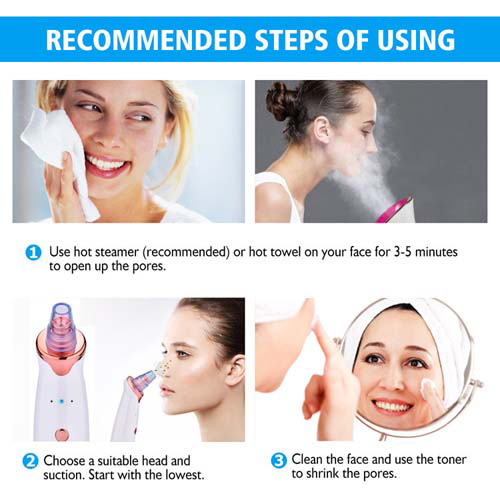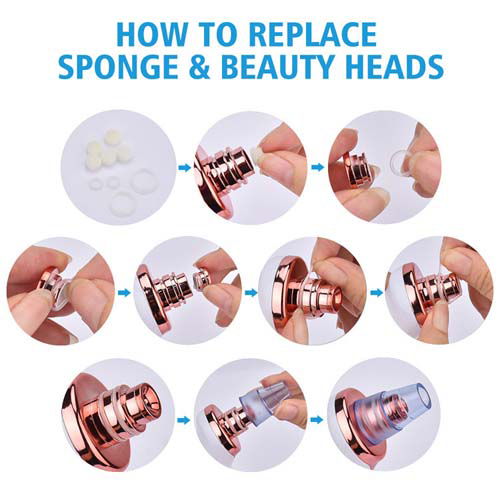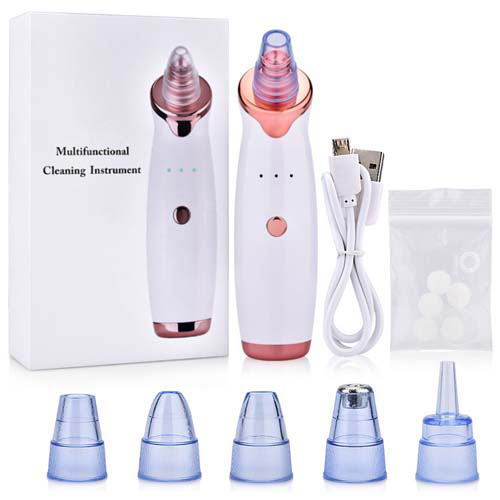 ***
---
choosing a selection results in a full page refresh