Regular price
$ 79.95
Sale price
$ 46.95
Poeple
are viewing this right now
Get it between
Dec 04
-
Dec 17
If you order NOW- SHIPPING is FREE
Guaranteed safe & secure checkout
The process of pregnancy is a time to bring happy emotions along with anxiety and expectation.

So, do yourself a favor and get rid of all the useless worry and fear regarding your baby's health by our Fetal Heart Rate Monitor.
This machine will help you hear your baby anytime that you want, from anywhere without having to wait for hours in the hospital.
 Your baby's heart rate index is recorded on the LED screen, while you can hear your little angel's heart thumping nice & clear when using headphones!
This is an amazing device to let you connect and share your baby's heartbeat with your friends and family!

What are you waiting for? It's an absolute must for any expecting mom.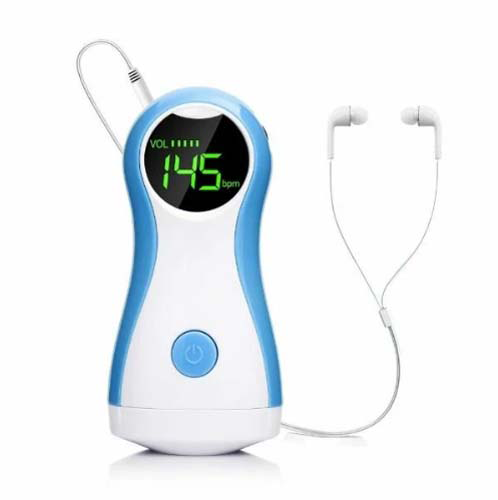 THE BEST AND SIMPLE WAY TO HAVE PEACE OF MIND DURING PREGNANCY!
Pregnancy can be a very stressful period and we all know that. The only thing that can calm you is to know that your unborn baby is doing fine! And now, finally you can achieve that in the luxury of your own home! Our incredible 90C baby monitor is going to help you listen to every heartbeat of your special little one and rest assured that everything is ok!
WHY BE NERVOUS WHEN YOU CAN BE RELAXED? 
Our unique unborn baby listening device is 100% safe and non-invasive. All you have to do is touch it to your belly and start listening to the funny and adorable sounds that your precious baby makes. Every hiccup, kick or heartbeat will be clearly audible
THE GREATEST GIFT A NEWLY PREGNANT COUPLE WOULD LIKE! 
Make sure that your newly pregnant friends get this remarkable baby gadget. They will simply adore you for this thoughtful and useful gift. The joy that they will get upon hearing their unborn baby's first heartbeat will be unparalleled. You are sure to become their favorite person in the world, until their baby is born that is!
Give a loved one the gift of hearing their baby's sounds in the womb
Beautifully designed, lightweight device gives expectant parents the amazing experience of hearing their child's movements from inside the womb, and helps to encourage bonding early on in a pregnancy
How to use?
Before using it for the first time, make sure 2 batteries are in Press the power button to power on, then adjust the volume Lie flat with a cushion pillow, keep legs straight and relax Attach the fetal probe to the abdomen to locate the position of the fetus and find out the best direction to the fetal heart After hearing regular fetal heart sound, the FHR value will display on the screen in real time
Package Contents:
- 1 x user manual

- 1 x Retailed Box

- 1 x Fetal Doppler (without batteries)

- 1 x headset
Note:
In general, the position of fetal heart with small gestational age is at the lower 1/3 of the pubis-umbilicus line.

The position moves upward with the increase of gestational age and the position inclines left or right with the differences of fetal position. Since fetus moves in the body, it may cause a wide range of movement for the position of the fetal heart. Therefore, the careful operation is needed to find the accurate position of the fetal heart.

In case of moving probe, it is required to make sure that there is enough coupling agent between the surface of the probe and the abdomen of pregnant women. If coupling agent is not enough, it may be impossible to hear fetal heart sounds or the heard fetal heart sounds are not clear, which affects the accuracy of the calculation.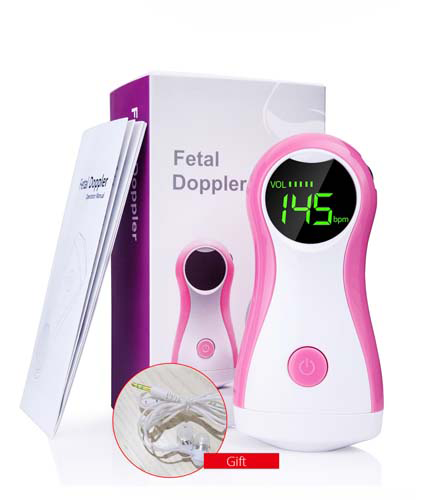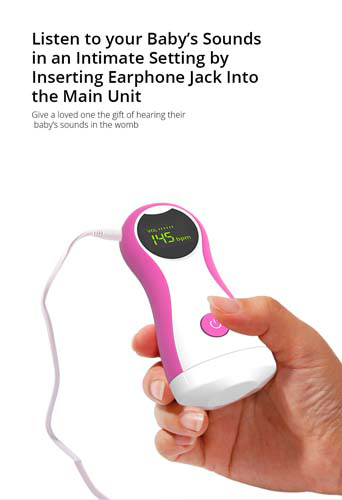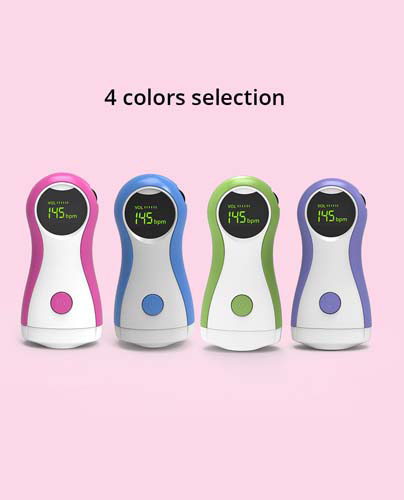 Similar products
Customers who viewed this item also viewed