---
For your security, We only accept Paypal as a payment method. But if you don't have a PayPal account, Then NO PROBLEM; you can still use your credit card: just hit the 'Buy It Now' Button select 'PayPal' then 'Pay with Debit or credit card' button.
---
Just got your car badly scratched? Don't panic! It's just a scratch. You don't need expensive car repairs for that.
The good news is... There's a foolproof cost-efficient solution for your dilemma!
This Ultimate Car Scratch Remover Kiterases car scratches instantly!
Scratches disappear right before your eyes!
Also removes stubborn stains caused by bird droppings, grease, tar, glue, and DIY paint defects.
Can even remove asphalt and sticky adhesive stains.
Protective Nano Coating Residue
Effectively fills ANY car scratch seamlessly!
It leaves a glossy finish that serves as an added protection to your car's paint.
Easy to Use, No Mixing Required
It even comes with applicator foam for your convenience.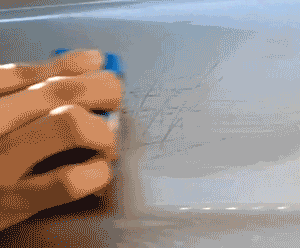 Safe, Fast-Acting, Long-Lasting
It's gentle on your car's original paint, too!
It safely and easily removes scratches without injuring the paint.
PLUS, it's weatherproof and heat-resistant so 

it will leave your car looking brand new again for a long tim

e.
No more stressing over car scratches! This Ultimate Car Scratch Remover Kit will leave your car looking flawlessly new. It only takes seconds of your time to use. And you won't even have to break a sweat. It's a total must-have kit for every car owner out there!
INSTRUCTIONS:
Clean and dry the surface you need to use first.
Place a small amount of the soft wax onto the sponge and apply on scratched area.
Sand the scratched area as appropriate until the scratches disappear or become shallow.
Wipe off the residue with a dry towel.
---
PRODUCT SPECIFICATIONS
Material/s: Soft Wax
Main Ingredient/s: Abrasives, Surface Active Agent, & Nano Filling Agent
Foam Size: Approx. 3cm x 7cm x 1.5cm
Net Weight: About 15 grams
Shelf Life: 3 years
***
---
choosing a selection results in a full page refresh