Winter Thick USB Heating Cotton Waterproof Jacket
Winter Thick USB Heating Cotton Waterproof Jacket
Regular price
$ 217.95
Sale price
$ 119.95
People
are viewing this right now
order NOW and Get it between
Mar 07
-
Mar 24
- SHIPPING is FREE
Guaranteed safe & secure checkout
Are you tired of wearing 3-4 jackets just to stay warm?
Imagine being able to stay totally warm even in temperatures between -10° F (-23° C) to 55° F (12° C). without guessing what the weather will be like or having to choose between a light or a heavy jacket.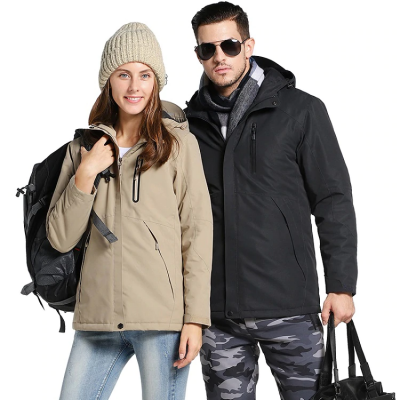 Cold weather puts stress on our inner organs and cuts circulation and in result hurts our immune systems.
Our Heated Jacket is designed to give men and women extra protection against the coldest environments.
We've created a lightweight, versatile, stylish Heated Jacket that delivers continuous warmth, and rids your body of the harsh negatives that come along with cold weather. Discover the benefits of our Heated Jacket!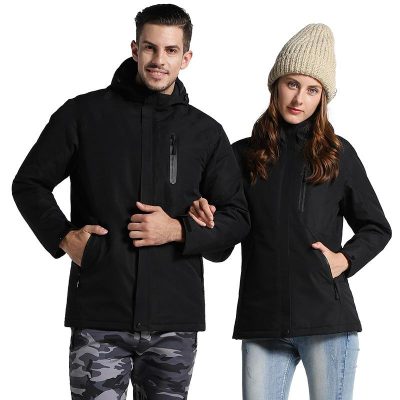 Helps Fasten your Metabolism & Shapes your Body:  In cold weather, our bodies preserve energy which in turn slows down our metabolism. This increases overall body weight in the long term. Warm energy keeps your metabolism moving smoothly and can potentially increase it for weight loss!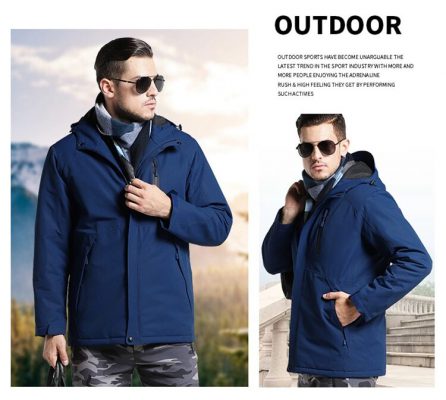 Great for cycling, skiing, riding & any outdoor activity – Our heated jacket can be worn on any occasion! Whether you want to ride your motorcycle, climb mountains, sled down one, or just warm up in that cold office, the heat keeps you comfortable around the clock.
Water-resistant & Sweat-proof: The outer material of our heated jacket is resistant to water and sweat! Just make sure to wash your jacket by hand if you desire to clean it!
 
Men Size
SIZE SLength 72cm /28.3in; Sleeve 58.5cm /23in; Bust 116cm /45.7in
Size M:Length 74cm /29.1in; Discounts 61cm /24in; Bust120cm/47.2in
Size LLength 76cm /29.9in; Sleeve 63.5cm /25in; Bust 124cm /48.8in
Size XLLength 78cm /30.7in; Sleeve 65cm /25.6in; Bust 128cm /50.4in
Size 2XLLength 80cm /31.5in; Sleeve 66.5cm /26.2in; Bust 134cm /52.8in
Size 3XL:Length 82cm /32.3in; Sleeve 68cm /26.8in; Bust 140cm /55.1in

Women Size    
SIZE S: Length 64cm /25.2in; Discounts 58cm /22.8in; Bust104cm /40.9in
Size MLength 66cm /26.0in; Sleeve 59.5cm /23.4in; Bust 108cm /42.5in  
Size LLength 68cm /26.8in; Sleeve 61cm /24in; Bust 112cm /44.1in
Size XL:Length 70cm /27.6in; Sleeve 62.5cm /24.6in; Bust 118cm /46.5in
Size 2XL:Length 72cm /28.3in; Discounts 64cm /25.2in; Bust 124cm /48.8in
 
Instructions:
1. Remove the USB plug
2. Access charging treasure
3. Press the charging power bank output switch
4. Long press the chest temperature control switch for 2 seconds
5. Red light flashes for automatic temperature control heating
6. After the red light flashes for 5 minutes, it will automatically turn into a white  light for manual temperature control heating. At this time, the temperature control  can be adjusted manually. The manual adjustment temperature control is divided into three modes, the blue light is low temperature heating, the gray light is continuous medium temperature heating, and the red light is continuous high temperature heating.
7. Press and hold the chest temperature control switch for 2 seconds, and turn off the light to stop heating.
Feature: Thermalç Waterproofç Windproof
Lining Material: COTTON
Fit: Fits true to size, take your normal size
Gender: Men & Women
Package includes: 1 x Winter Thick USB Heating Cotton Waterproof Jacket (power bank not included)


Similar products
Customers who viewed this item also viewed